Hot Topics in Comm & Info Management: Cyber Security 5 Things You should know to Protect Your Business
Cyber Security 5 Things You should know to Protect Your Business, will be presented by Robin Saunders, Program Director of the MS in Communications & Information Management programs at Bay Path University.
---
Cybercrime costs the economy more than $1 trillion per year, and crooks are increasingly setting their sights on small businesses. Cyber attacks are growing in importance every day – from influencing major elections to crippling businesses overnight. - Cybersecurity is smart business!
According to a June 2017 article on Business News Daily, small businesses are just as at risk for cyberattacks as larger companies. According to a report by Keeper Security and the Ponemon Institute, 61% of small and Medium sized businesses have experienced a cyber attack and have been breached in the past 12 months.
Small Businesses have a lot to lose. Small businesses store their own critical data as well as important customer records (including possibly credit card, social security, and/or other numbers), vendor information, customer lists, passwords, and much, much more.
Let's not become a statistic. A little work now is smart business.
---
About Robin Saunders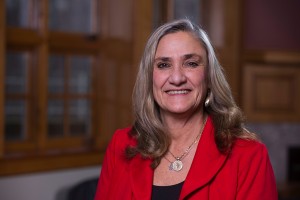 Robin Saunders, program director of the Masters in Communications and Information Management Programs, is an accomplished educator, entrepreneur and healthcare professional. Robin brings more than 25 years of successful business management to Bay Path University. She has founded and sold several global businesses and been awarded the Canadian Entrepreneur of the Year. She is currently a nationally recognized speaker on Cyber Security and Healthcare Information Technology and specializes in employee education. Her formal educational background includes Cyber Security, Information Technology, Educational Technology, Communications, Management, Medical technology, Nursing and Drug and Alcohol education. In her spare time, Robin has completed 4 Ironman race competitions.