Hot Topics in Comm & Info Management: Converging Technologies and Its Consequences
Converging Technologies and Its Consequences, will be presented by Robin Saunders, Program Director of the MS in Communications & Information Management programs at Bay Path University.
---
In the past few years, the boundaries between information technology (IT) which refers to hardware and software used to store, retrieve, and process data and communications technology (CT) which includes electronic systems used for communication between individuals or groups have become increasingly indistinguishable. The rapid convergence of IT and CT is taking place at three layers of technology innovation, cloud, pipe, and device. As a result of this convergence, industries are adapting and new industries are emerging to deliver enriched user experiences for consumers, enterprises, and the private sector. Exponential improvements have been made in the speed of data processing, in cloud-computing capabilities, the storage of extraordinary quantities of data and in the algorithms used to analyze large and dynamic data sets, and in our ability to visualize this data.
What technology has been able to do it is to compress time and space.
• How will the "World of Work" adapt?
• How can educational pipelines help?
• How will the 5 V's, (Volume, Velocity, Variety, Veracity and Value) of Big Data impact the future?
---
About Robin Saunders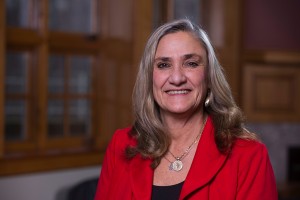 Robin Saunders, program director of the Masters in Communications and Information Management Programs, is an accomplished educator, entrepreneur and healthcare professional. Robin brings more than 25 years of successful business management to Bay Path University. She has founded and sold several global businesses and been awarded the Canadian Entrepreneur of the Year. She is currently a nationally recognized speaker on Cyber Security and Healthcare Information Technology and specializes in employee education. Her formal educational background includes Cyber Security, Information Technology, Educational Technology, Communications, Management, Medical technology, Nursing and Drug and Alcohol education. In her spare time, Robin has completed 4 Ironman race competitions.